The Estebar & Wajih Barazi Fund EST. 2018
In 2018, Mai Barazi established the Estebar and Wajih Barazi's fund in honor of her late parents.
The fund will support Syrian students striving to pursue their higher education goals and rebuild their country, Syria. Mai was confident that making a difference in the lives of students caught in conflict zones was the best tribute to their memory.
Both Estebar and Wajih believed that education was the best gift that they could give to their four children. They did everything in their power to ensure that Shadi, Amani, Rula, and Mai had college degrees.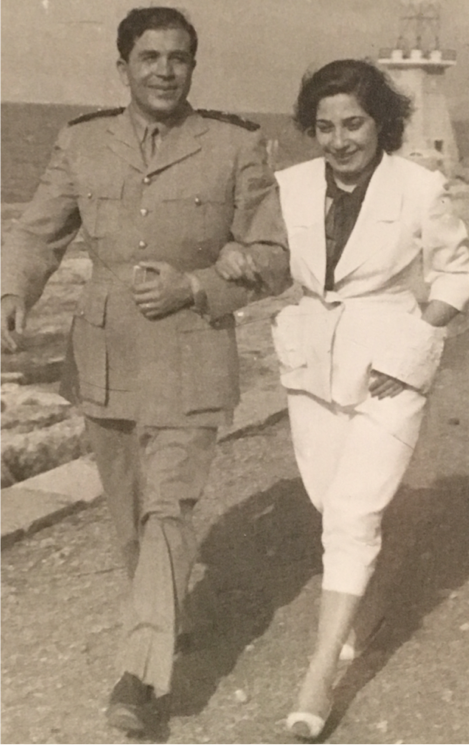 Wajih & Estabar Barazi on their honeymoon in Beirut, 1952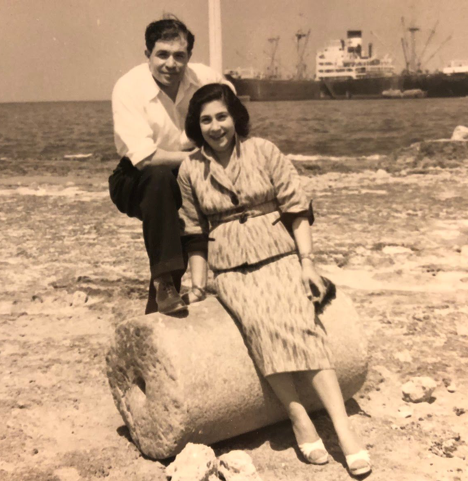 About Estebar Barazi
Estebar was born in Hama, Syria in 1928. She lost her father when she was only one month old. Estebar's mother was an exceptional woman who believed in the value of education As a mean for economic independence and empowerment.
Estebar and her older sister were both educated and eventually became teachers.
Estebar married Wajih Barazi and continued to teach in the different cities to which he was posted. They eventually settled in Damascus in the late 1950's.
In Damascus, Estebar chose to teach the visually impaired. She taught at the School of the blind and described her job as "the most fulfilling job ever." This was no small feat during the early 60's when very few countries in the region had the skills and the infrastructure to attend to the needs of persons with disabilities.
She was a giver.
Although she had no special training to teach the visually impaired, she did a wonderful job and nurtured relations that outlived her professional career. She had a generous soul, which explains her success as a teacher, as a loving mother, a great host, and a wonderful wife. Estebar lived by the motto "when you have mercy on your fellow humans, heavens will have mercy on you."
Estebar loved reading. Her favorite writers were the famous Syrian poet Nizar Qabbani, Algeria's novelist Ahlam Mosteghanemi, Lebanese pride Gibran Khalil Gibran, Syrian writer Ghada al-Samman, and Lebanese-Palestinian Mai Zyada, after whom she named her youngest daughter, Mai.
The house of Wajih and Estebar in Damascus was always open to anyone who needed help, or shelter or just to spend good time
Estebar passed away in Damascus in 2012. She was an inspiration to many. The world of those whose lives she touched was much dimmer after her passing.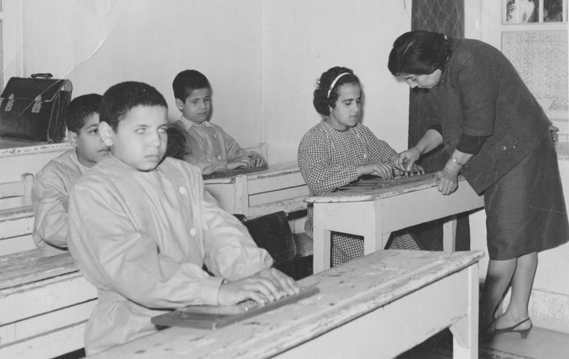 Estebar Barazi teaching in the Blind school in Damascus Syria, early 1970s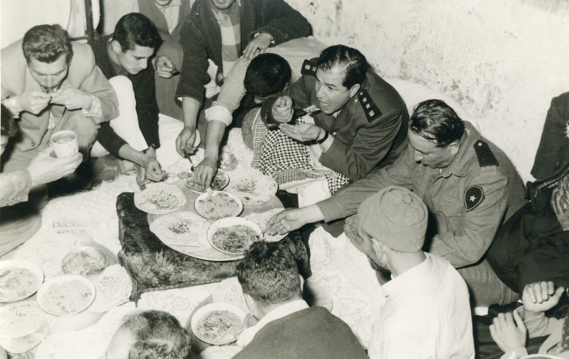 Colonel Wajih Barazi celebrating an event inside the prison, eating with the prisoners and his
colleagues, early 1960s
About Wajih Barazi
Wajih was born in 1914, in Hama, Syria, Wajih joined the ranks of his fellow Syrians fighting the French colonialists. Wajih opened the first sports club in Hama soon after Syria gained its independence in 1946.
He attended the Police Academy and served his country as a police officer.
The last job he held was the Warden of the Damascus Prison, located in the famous Citadel of Damascus.
Wajih believed in the inherent goodness of human beings and believed that inmates could be redeemed if they were given proper support and opportunities. Along with other officers, he established the Prisoners' Care Charity to rehabilitate inmates and give them a chance to turn a new page after serving their prison sentences.
He developed programs to train inmates and provide them with skills that may help them find jobs upon their release. Inmates were able to graduate high school, and eventually get college degrees while serving their prison sentences.
During his tenure, the Damascus prison had a basketball team, a theater that replaced the execution hall, a library, and an art gallery in which beautiful artwork made by the prisoners themselves
was displayed and sold. All the proceeds went to the prisoners and their families. He was forced to resign in 1963. Wajih Barazi passed away in 1987.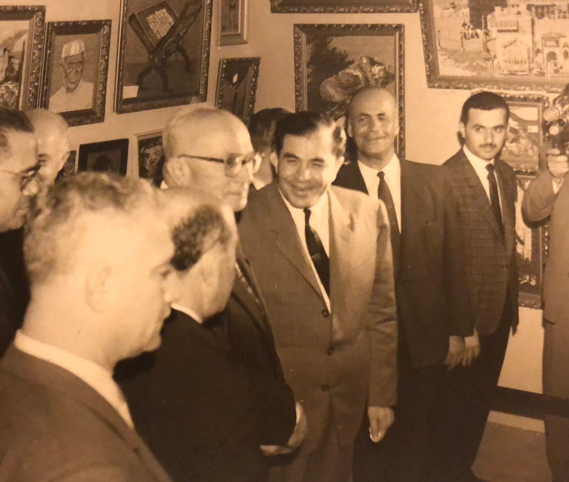 Wajih with then-Syrian Prime Minister Khaled Al-Azem in the prison art section in Damascus International Fair 1962 . Behind him is hung artwork, made by beads, made by prisoners. All proceeds were given to prisoners and their families.