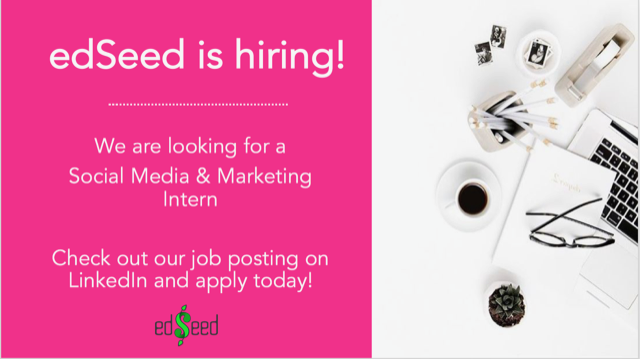 The edSeed app connects donors with refugee youth seeking higher education funding and career guidance/mentorship and we are hiring!
We are looking for a social media marketing intern to help us create content and manage our online communities.
A current or recent student, with educational background in marketing, communications, or graphic design.
Experienced in using social platforms including Facebook, Twitter, Instagram, MailChimp and YouTube.
Digitally savvy and hard-working, comfortable using Slack, Zoom and digital communication tools.
Able to commit to working remotely for 10 hours/week.
Creating content for edSeed social media platforms (Facebook, Instagram, Twitter).
Brainstorming and developing new content ideas for campaigns.
Managing social media platforms.
Liaising with the marketing, operations and student onboarding teams.
Assisting with developing material for presentations, marketing paraphernalia and pitches.
This candidate should be eager to learn about social enterprise, content creation, marketing, the refugee crisis, non-profit management and more!

It is an unpaid 8-week internship. Successful interns will receive a letter of recommendation and permission to use the content for your portfolio.

Interested applicants should e-mail

tala.odeh@gmail.com

with a resume and portfolio or cover letter.