The palace built by the angels owes its name toits superb beauty. It's Alhambra Palace in Andalusia, Spain – started during 1238 and continuing through the second half of the thirteenth century A.D.
The Alhambra is known for the beauty of its inscriptions and decorations that stand to this day. It is a testimony to the genius of Arab civilization in Spain throughout history.
The most distinctive feature of the palace is the Court of the Lions, which consists of twelve marble lions pouring water from their mouths regularly and water flowing in channels inside the palace in an unparalleled view. On this beautiful fountain, some verses from the poems of the Minister Ibn Zamrak Al-Andalus were written.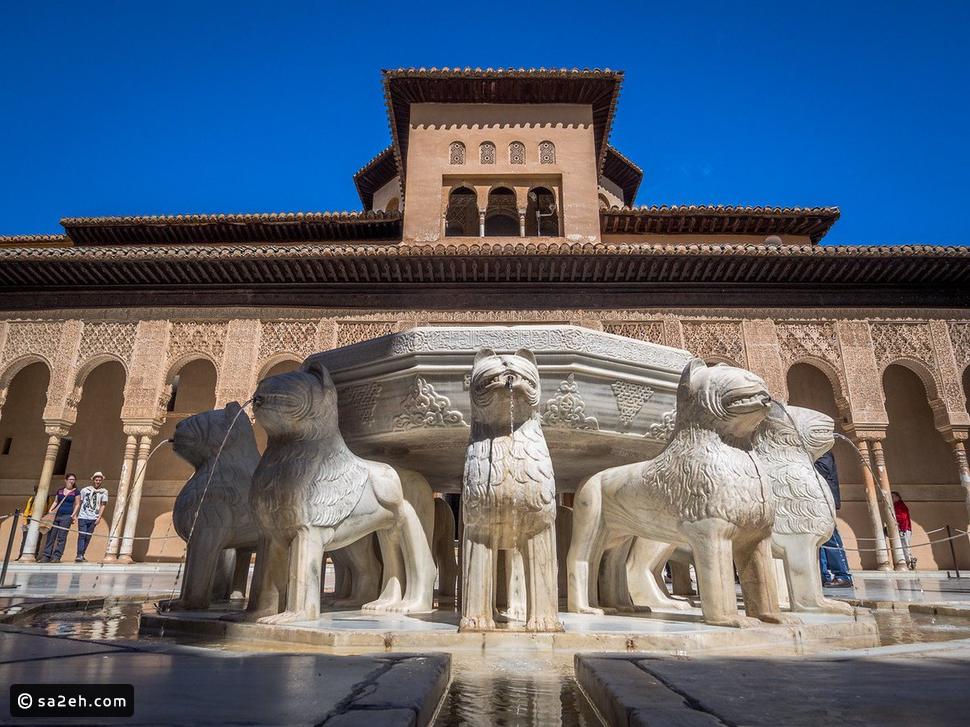 Many scientists tried to discover the secret of the regularity of the lions by removing water from their mouths periodically, so what is its secret?
During the restoration of the Alhambra Palace, scientists discovered that the lions are divided into several groups. Every four lions form similar groups, and each group differs from the other in terms of the length of the tails and claws, the shape of the hair around the head, the length of the feet, the features of the face, and the nose and the styling of the fur. These links to the written poetic lines surrounding the fountain to confirm that it is a water clock.
And while the scientists were carrying out the restoration process and trying to uncover the secret of this court, the clock stopped. After the lions used to take out the water from their mouths regularly and periodically, all the water came out at the same time.
The water reaches the Alhambra from the surrounding mountains, through minute channels that show the precision of the architecture that Andalusian civilzation had reached.
British author Robert Arwin said, "The Alhambra, in its main buildings, was not designed by architects, but by philosophers and poets."
Located near the Alhambra, the Generalife's Paradise, a palace located a kilometer from the Alhambra, was enjoyed by the Kings of Granada as a park for rest and recreation.
Many poets wrote poems in the Alhambra and the Generalife.
And I always say: Andalusia is not a country, rather it is a paradise that only lovers enter. All cities have gates except Andalusia. Whoever wants to enter it and enjoy its beauty must be a lover and a philosopher.
He savors the poetry and feels the words engraved in the corners of the palaces so that he understands the mystery of this beautiful country and enjoys walking among its narrow streets.
Visit my campaign to know more about me.
Blog images taken from sa2eh.com